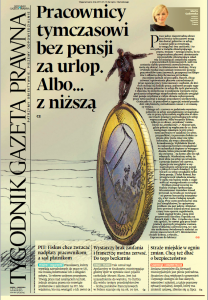 An expert comment made by the founding partner of KG Legal in respect of a landmark judgment on Polish franchise agreement
An expert comment made by the founding partner of KG Legal Kiełtyka Gładkowski to Polish Law Journal, 7-9 July 2017 No. 26 (81), in the article by J. Styczyński, "The Court issues a courageous judgment on franchise agreement: franchise contract may be broken if there was no trust between the parties". The landmark judgment issued by the Court of Appeal in Krakow on 30 March 2017 (case file number I ACa 711/16).
"– A soft franchise can be recognized by the manner of taking action by the owner of a franchised shop who, while maintaining business within the network of a given brand, retains a great deal of its business distinctiveness – explains Małgorzata Kiełtyka, attorney and partner at KG LEGAL Kiełtyka Gładkowski. […] On the other hand, Małgorzata Kiełtyka emphasizes that the lack of this guarantee should be taken into account in particular by beginner entrepreneurs in franchise sector. – The franchisee receives a franchise package in which he or she is provided with knowledge and support as to how to do business, and in any case, is provided with an access to the distribution of goods (services) on special terms. But even the strongest and most recognizable brand with which the franchise will be equalized in the market, does not always balance all the financial burdens imposed on the franchisee as a part of the franchise agreement.".