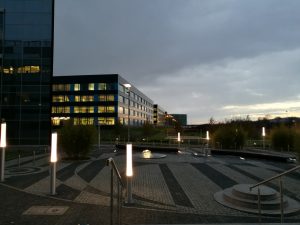 Operation of the Garage LifeScience
In the second part of the programme, dr. Piotr Warchoł (also co-founder of Complexity Garage) introduced operation of the Garage. There are three categories of membership:
– regular
– academic
– commercial
The regular membership will gather mostly people unrelated with univerisites, but related with the DIY culture, that would create Open Space projects. To use the Garage they will have to pay a small fee.
The academic membership is free and is designed for scientific circles, researchers, which, from various reasons will not be able to carry out research at the University and also for students participating in competitions.
The last type of membership – commercial is directed to companies, that do not need or cannot afford laboratory for full-time. So it will be, mostly, microenterprises and start-ups. The fee will be proportional to time spent in Garage.
Cooperation between companies and Garage of LifeScience
There is also a possibility to establish a commercial partnership, that is intended for larger companies and organisations, which would have internships, workshops, trainings or projects, that, from various reasons, do not want to carry out in their laboratories. Financial conditions will depend on individual arrangements.
New and modern Laboratory in Cracow
Space laboratory is taken care by lab tutor, which is responsible also for contact with press. To get to the laboratory you must have an access card. If you are working on a project, you will have to go to reception each time and get an access card. The laboratory is equipped with fume hood, ultrasonic washer, vortex and many other devices. In case of need to use devices, that are not in Garage, there is a possibility to use apparatus of one of Garage's partners.
How to get, with your project, into Garage?
As soon as Garage starts, there will be a constant recruitment of projects. The application form should contain:
team of project
goals of project
schedule
budget
own resources
needs of the project
Then, after the application, the Advisory Board will decide whether the project gain acceptance or not. After obtaining approval you have to sign regulations and ethical code.
First projects
At the end, dr. Warchoł gave examples of submitted projects to Garage Life Science. Here they are:
elaboration of fluorescent labeling proctocol (FISH) single avian's cells (in the scutellum germ of zebra finch) based on gender
cel cultures and microfluidics
expression, purifying and activity assays of protease TEV.
Creation of the Garage LifeScience is a chance for inventors and enthusiasts in the field of biotechnology to carry out projects (even those, that are forgotten, since there was not enough money to implement them), in an accessible form and on fair financial terms.