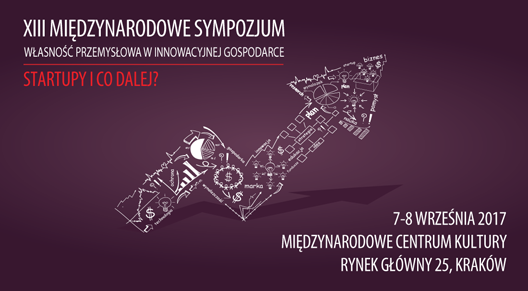 KG Legal will take part in XIII International Symposium  "Intellectual property in an innovative economy. Start-ups and what's next?", organised by the Polish Patent Office, which will be held in the International Culture Centre in Cracow, on 7-8th September 2017. The event has been announced to be under the patronage of the President of the Republic of Poland and has been organised with the cooperation with the World International Property Organisation, the Industrial Development Agency, the Marshall's Office of the Małopolskie Voivodeship, the Embassy of the State of Israel, United Stated Embassy and the number of Universities, e.g. Jagiellonian University or AGH University of Science and Technology. 
The main issues to be discussed are: how to support Polish and foreign entrepreneurs and how to manage with intellectual capital with the focus on the activity and the development of start-ups. There will be also analysed the issues related with the process of cross border investments and international cooperation, the topics related to legal security of innovation, know-how transfer, technology and intellectual property matters, as well as support instruments for start-ups.
KG Legal will take part in the following workshops:
The strategy for start-ups development;
Corporations and start-ups – how to cooperate?;
Design thinking in start-ups;
Dispute resolutions concerning intellectual property through mediation and arbitration.