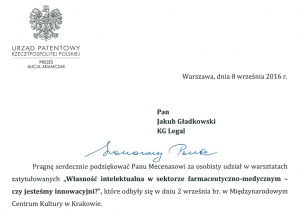 The President of the Polish Patent Office expresses gratitude to Att Jakub Gładkowski, Founding Partner at KG Legal, specialising in IT and new technologies, for his active participation in the part of the programme "Intellectual Property in pharmaceutical-medical sector", organised by the Polish Patent Office jointly with the Wold Intellectual Property Organisation (WPO).
See below the letter from the Polish Patent Office addressed with a dedication to Attorney Jakub Gładkowski:
"Patent Office The Republic of Poland
President Alicja Adamczak
Warsaw, 8th of September 2016
Mr.  Jakub Gładkowski KG LEGAL, Dear Sirs, (…)
I would like to express my sincere gratitude for your personal participation in the workshops "Intellectual Property in pharmaceutical-medical sector – are we innovative?", which took place on 2nd of September 2016 in International Cultural Centre in Cracow.
The above workshops have been organized under the scientist-research project "IP and socio-economic development – Intellectual Property in the health sector innovation system in Poland", carried out by the Patent Office of the Republic of Poland in cooperation with the World Intellectual Property Organization (WIPO). The conclusions and postulates submitted and raised by the attendees of the workshops will constitute a significant part of the report, which will be formed as a result of the project and which will make a major contribution to the improvement of the Polish innovative policy in pharmaceutical-medical sector.
I am pleased to inform, that the event has been received with a great deal of interest – over 50 people, representing various professions: government administration, business institutions, academics and researchers, entrepreneurs, lawyers, patent agents – all of them have taken part in the workshops.
The participation of Mr. Krzysztof Łanda, undersecretary of State at the Ministry of Health, proves the crucial importance of the discussed topics from the perspective of economy development and provides political support in this regard. Intense discussions during the event convince us that we should continue the debates in respect of innovations in pharmaceutical-medical sector and expand this area with new ideas. We are currently preparing a programme of a new event, which will take place in November or December.
I would like to once more express my gratitude for your devoted time and I am looking forward to develop further mutual cooperation.
Yours sincerely
Alicja Adamczak"