Publication date: October 18, 2023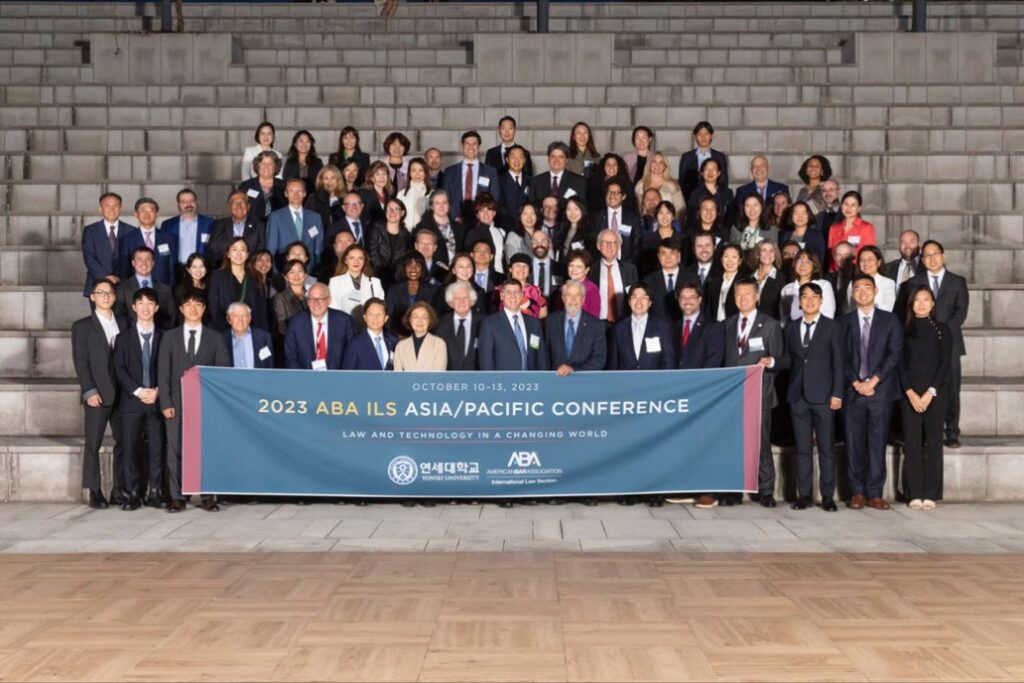 Two managing partners of KIELTYKA GLADKOWSKI, Co-Chair of Life Science and Healthcare Committee of ILS ABA, Attorney Malgorzata Kieltyka and Vice-Chair of Life Science and Healthcare Committee of ILS ABA Jakub Gladkowski were attending four day Conference organised by the International Law Section of the American Bar Association in Seoul, South Korea, devoted to Technologies and international legal problems of new technologies.
The selected examples from among a dozen discussion panels, include:
1. Gatekeeper or Catalyst: New Paradigm for Competition, Consumer Protection and Regulation Involving Digital Platforms
(Antitrust/Data Privacy/Regulation; Corporate/International Trade Tracks)
Digital platforms have played a significant role in economic growth and innovation worldwide. The APAC region is at the forefront of many significant technological developments of our time and robust enforcement of competition laws. Korea is still the only jurisdiction that promptly enacted ex ante regulation to ban mobile operating system providers' mandatory in-app payment requirements. Other jurisdictions are also paying greater attention to new and old legal issues brought upon by changing technology and its interface with competition, consumer protection, data security, M&As, and others. This panel brought together regulators, platform operators, practitioners, and scholars to provide a comprehensive view of the recent antitrust and consumer protection developments involving digital platforms. It presented timely updates and prognoses to cover recent activities in the APAC region and provide in-depth analysis by comparing and contrasting with other jurisdictions.
Program Co-Chair/Moderator: Cecil Saehoon Chung, Head of International Antitrust, Yulchon LLC, Seoul
Program Co-Chair/Speaker: Elizabeth Xiao-Ru Wang, Executive Vice President, Compass Lexecon, Boston/Beijing
Speakers:
Ruth Chen, Associate General Counsel, Competition and Regulatory, Meta, Singapore
Ninette Dodoo, Partner, Freshfields Bruckhaus Deringer LLP, Beijing
Krisztian Katona, Vice President of Global Competition and Regulatory Policy, Computer & Communication Industry Association, Washington, DC
Hao Zhan, Managing Partner, Anjie Broad Law Firm, Beijing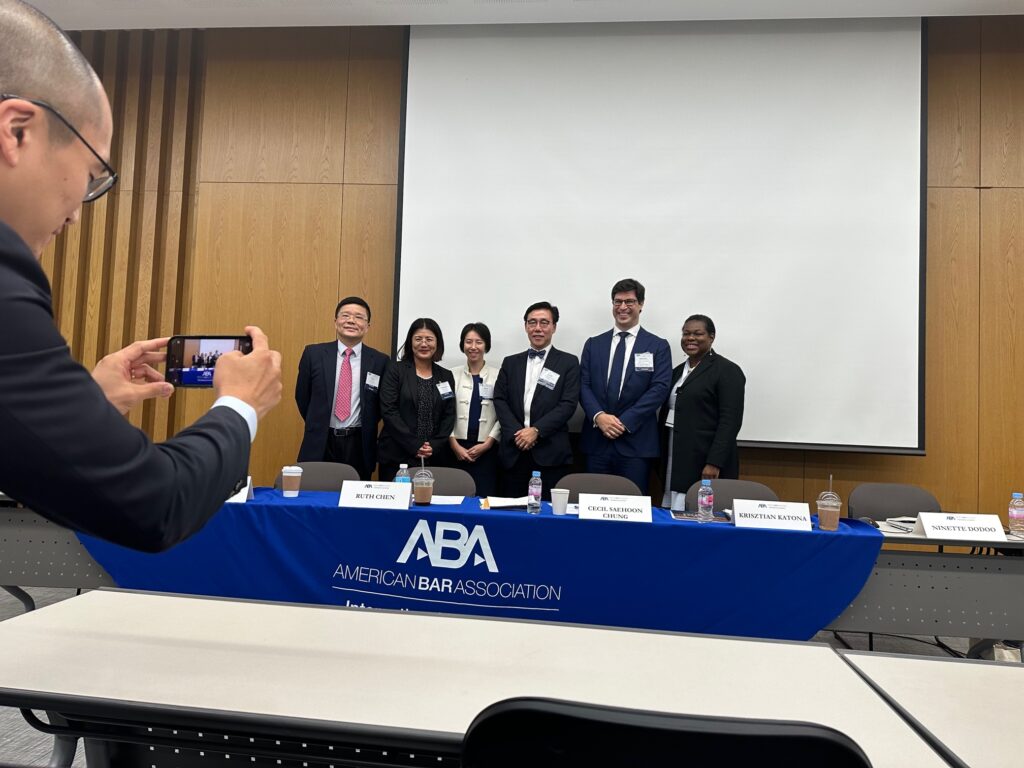 2. A Wide World of Secrets: Litigating Trade Secret Disputes Across Borders and Trends in Extraterritorial Jurisdiction
(International Dispute Resolution/Litigation; Mergers & Acquisitions/Joint Ventures/Foreign Direct Investment Tracks)
In this panel the participants explored trends in litigating trade cases involving allegations of international misappropriation of trade secrets and other intellectual property, including the challenges in asserting such claims in multiple jurisdictions simultaneously, differences in substantive law and burdens of proof, and inconsistencies in the types of remedies available. Increasingly, companies in the technology and life sciences spheres have looked to foreign or international forums to resolve some of their most difficult trade secrets litigation. And increasingly those forums, particularly in the United States, have shown themselves willing to provide remedies for allegations of misappropriation that occurred outside of their territories. This panel focused on the considerations a claimant seeking to bring a trade secret case should consider when selecting the court or courts in which to bring the claims, how to sequence claims across jurisdictions, and considerations for parties responding to allegations of trade secret misappropriation from abroad.
Program Chair: Cunzhen Huang, Counsel, Cleary Gottlieb Steen & Hamilton, Washington, DC
Moderator: Nowell Bamberger, Partner, Cleary Gottlieb Steen & Hamilton, Washington, DC
Speakers:
Duck Soon Chang, Attorney, Kim & Chang, Seoul
Hayoun Chun, Partner, Lee & Ko, Seoul
Chang-Sik Kim, Head of IP Legal and Strategy, Samsung Display, Seoul
Tae Geun Kim, Partner, Bae Kim & Lee LLC, Seoul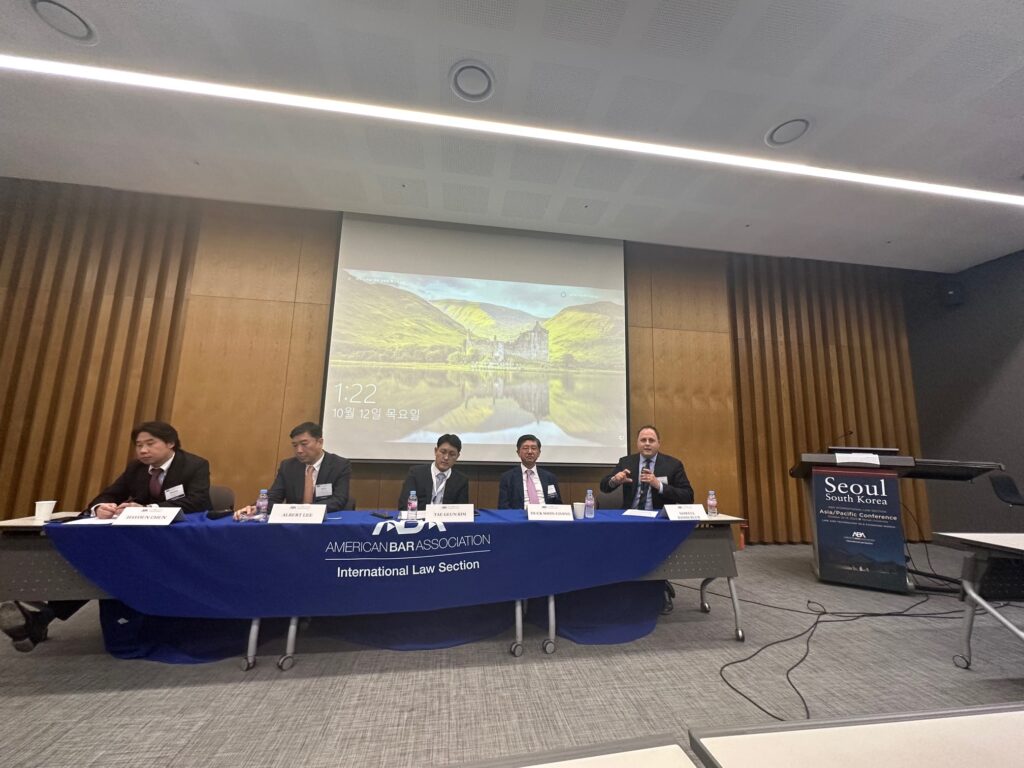 3. Data Privacy in a Brave New World: What Does the Future Hold for Our Data on the Technology Frontier?
(Antitrust/Data Privacy/Regulation; Intellectual Property Rights Tracks)
We live in an era of rapid advances in data-driven technologies – autonomous vehicles, generative AI, virtual reality, personalized entertainment, AI-augmented diagnostics, and on and on. All is data – and a vast flood of it is, or starts out as, personal data. There are vastly more transistors now, in our plethora of smartphones and other devices, than all the grains of sand on all the world's beaches. Where do data privacy rules go from here? What trade-offs loom, with the surge in conveniences reliant on people's data? What will come out of the lawsuits and legislative maneuvering over ChatGPT and its kin? This panel considered the direction and focus of trends in data protection in Korea, Japan, the U.S. and other jurisdictions, (including from the competition perspective), as policymakers and regulators, facing the tide of innovation, wrestle with competing notions of utility and privacy, marketplace and autonomy.
Program Co-Chair/Moderator: Sun Hee Kim, Partner, Yulchon LLC, Seoul
Program Co-Chair/Speaker: Hiroyuki Sanbe, Partner, Atsumi & Sakai, Tokyo
Speakers:
Euan Burrows, Global Head (Competition), Ashurst LLP, London/Dublin
Minwoon Yang, Senior Foreign Attorney, Bae, Kim & Lee LLC, Seoul
Heejin Yi, Associate General Counsel, Facebook Korea, Seoul
4. The U.S. PTO's War Against the Unauthorized Practice of Patent and Trademark Law by Foreign Associates: Ethical Considerations and Best Practices for Protecting Yourself and Your Clients from Sanctions and Discipline
(Intellectual Property Rights; Corporate/International Trade Tracks)
In international IP matters, non-U.S. law firms are frequently involved as intermediaries between their local clients and U.S. patent and trademark counsel. In recent years, the USPTO has become more aggressive in policing the behavior of non-U.S. lawyers who assist their non-U.S. clients with drafting patent and trademark applications and other documents that are considered the "practice of law" under U.S. law. Certain practices by foreign intermediaries involved with patent or trademark representations before the USPTO have led to claims that the intermediary engages in the unauthorized practice of law, in violation of federal regulations. Those violations have led to the cancellation of thousands of trademark applications and other adverse consequences. This panel provided informative and timely guidance on this development, including best practices for how U.S. and foreign associates and intermediaries can work cooperatively to serve their IP clients while avoiding claims of improper conduct.
Program Chair/Moderator: Michael E. McCabe, Jr., Managing Partner, McCabe Ali LLP, Potomac, MD
Speakers:
Thomas J. Kowalski, Partner, Duane Morris, New York, NY
William Park, Managing Partner, William Park & Associates Ltd., Chicago, IL
Kyle Choi, Senior Foreign Attorney, Shin & Kim LLC, Seoul
5. Due Diligence in the Technology M&A Arena
(Mergers & Acquisitions/Joint Ventures/Foreign Direct Investment; Intellectual Property Rights Tracks)
Technology has become an essential component of businesses today, playing a crucial role in enhancing productivity, improving efficiency, and driving growth. Given the central role of technology in business, intellectual property (IP) and information technology (IT) legal due diligence is becoming increasingly important for mergers and acquisition transactions across nearly all industry sectors. Lawyers and corporate counsels involved in M&A transactions benefit from understanding how technology is implicated in the target's business, key issues that will shape legal due diligence of the target's technology and IP assets, and jurisdictional differences that may impact such legal due diligence.
Program Chair: Hyunju Helen Pak, Senior Foreign Attorney, Shin & Kim LLC, Seoul
Moderator: Julie Shin, Senior Foreign Lawyer, IP Group, Lee & Ko, Seoul
Speakers:
Jiwon Kim, General Counsel, HL Mando, Seoul
Rosa Kim, Strategic Partnership, Android, Seoul
Yoori Kim, Executive VP, General Counsel, ToolGen Inc., Seoul
Takashi Toichi, Corporate M&A, TMI Associates, Tokyo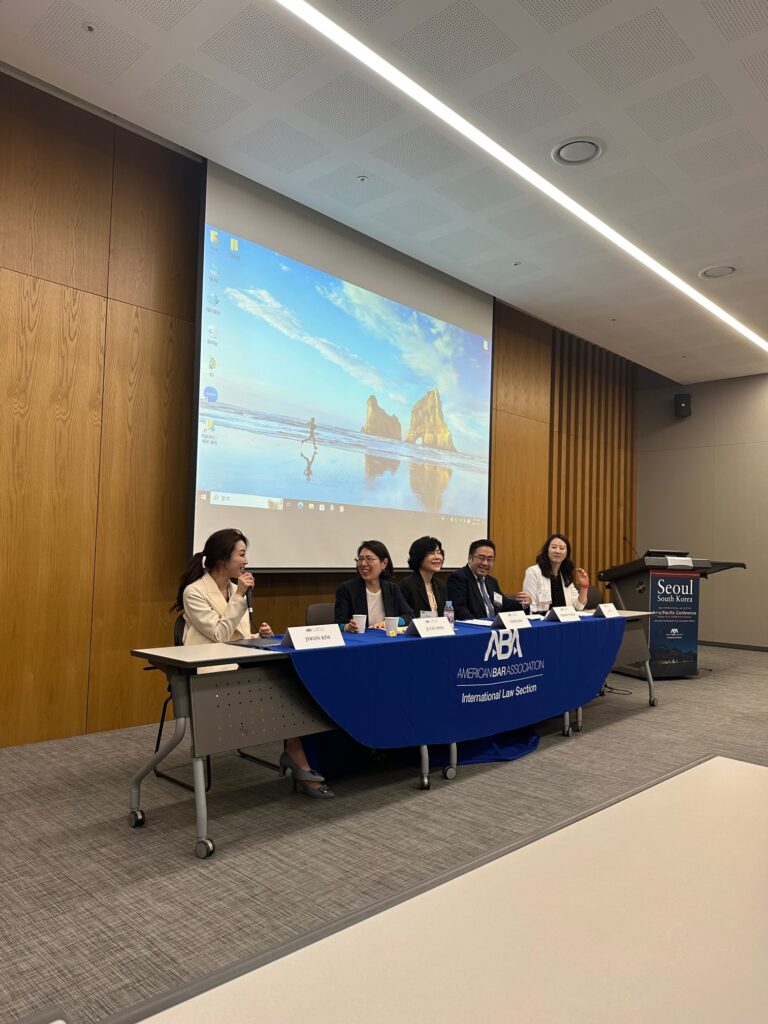 6. Closing – David A. Schwartz, Chair, ABA International Law Section
The Conference was an exceptional occasion for the lawyers of KIELTYKA GLADKOWSKI to gain insight into the most current cases, trends and tendencies in the international legal market, as well as a perfect networking platform.