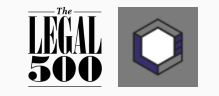 The event was attended by US-based general counsels, heads of legal and legal directors in the corporate/M&A field. Together with the Lex Mundi, the participants discussed how the emerging post-Covid regulatory landscape suggests that corporate legal teams will have more influence than ever over integration.
On 13 January 2022 KIELTYKA GLADKOWSKI KG LEGAL attended the Virtual Roundtable organized by the Legal500 on post-merger integration after the pandemic.
General counsels were asked to share experiences of supporting integrations and lessons learned in the current environment.
Speakers included:
Helena Samaha, President and CEO, Lex Mundi
Eric Staal, Vice president, global markets, Lex Mundi
Jenny Karlsson, Head of legal and director of global markets, Lex Mundi
The event will allow the M&A team of KIELTYKA GLADKOWSKI KG LEGAL to be updated on the post pandemic regulatory market and practical experience of virtual-remote diligence, negotiations, and closings within M&A market.
Link to the event: https://www.legal500.com/events/webinars-home/roundtable-post-merger-integration-after-the-pandemic-what-are-the-emerging-pitfalls-europe/