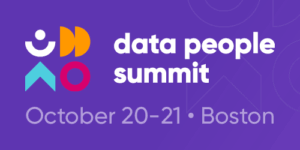 On 20-21 October KIELTYKA GLADKOWSKI KG LEGAL took part in the online events of the Data People Summit organised by Ataccama in Boston, Massachusetts. The main events included leadership sessions, fast-track training and Ataccama products launch.
The Summit gave an excellent opportunity to upskill, learn about data management and train with the best experts and professionals in the field. 
The courses included topics such as data management capabilities, cloud data management, and data ethics. They were organised by John Bottega (President), Mike Meriton (Founder & COO), and Diana Ascher (Head of Research) from EDM Council, which is the leading advocate for the development and implementation of Data Standards, Best Practices and comprehensive Training and Certification programs.
On one of the events, there was a showcase of Ataccama's new products. Ataccama, which was the organizer of the Summit, is a global software company delivering a unified platform for automated data quality, MDM, and metadata management—Ataccama ONE. They specialize in complex enterprise data governance solutions that provide sustainable, long-term value. Considering that, the Summit gave a great opportunity to see the new tools and features of the company.
Some of the most interesting events included:
The company's updates from the CEO of Ataccama: Michal Klaus
Conversation with NASA Pioneers – inspirational panel session about the importance of cooperation and successful leadership
Presales Workshop
Course on data management capability assessment model and cloud capabilities
Data Quality 101 – training about fundamental data quality concepts
Post- Processing Training
Maximizing Innovation through Data Democratization – panel about new challenges concerning the democratization of data
Partner Training: Solution Based Selling – workshop helping to understand how to assess data management needs and challenges of the company's clients,
The future of Data Management – panel abut the current trend and the future of the field
Working Backwards – a session about Amazon's innovation process
MDM 101 – training on master data management
Data Ethics & Responsible AI with the EDM Council – course on basic ethical principles relevant to data
Embracing Data Democratization- Challenges & Opportunities – senior data leaders panel
Training on Ataccama's MDM Introduction & Logical Modeling
The Summit has invited some of the best professionals in the Data Management field and other inspirational guest to take part in the conference, which are:
Noel Yuhanna – VP, Principal Analyst, Forrester
Svetlana Reznik – General Manager, Customer Success, Microsoft
Lex Crosett – Enterprise Technologist, AWS
John Bottega – President & Co-founder, EDM Council
Louise Hannah – Emcee
Mike Meriton – COO & Co-founder, EDM Council
Diana Ascher – Head of Research, EDM Council
Michal Klaus – CEO, Ataccama
Marek Ovcacek – Chief Product Evangelist & VP of Platform Strategy, Ataccama
Colonel Eileen Collins – NASA Pioneer; First Female Space Shuttle Pilot; First Woman Mission Commander in NASA History
Ginger Kerrick – First Latina Director of NASA Mission Control and 30-Year Veteran of the Johnson Space Center
Martin Zahumensky – CPTO, Ataccama
Vladimir Lukic – Managing Director and Senior Partner, BCG and BCG GAMMA
Jane Urban – Sr. Director, Commercial Data Management and Strategy Outgoing Executive Sponsor, Takeda Pharmaceutical
John Adamo – Vice President, Chief Product Owner, Master Data Management, Prudential
Raj Nimmagadda – Global Head of R&D Data, Sanofi
Brian Coogan – Head of Innovation and Advanced Process Solutions, Fidelity Investment
Jason Wright – Data Quality Lead, T-Mobile
Sarah Oraby – Data Quality Lead, BCBS of NC
Brian Buzzelli – SVP, Enterprise Data Management, Acadian Asset Management
Sarka Klofacova – CEO APAC and CCO, Ataccama
Israel Abraham – Head of Data Management & Engineering, MassMutual
Plumaletta Berry – Sr Manager, Data Analytics and Research for Healthcare, Lifelabs
Kishore Aradhya – Senior Director, AI & Advanced Analytics, Stanley Black & Decker
Sona Smid – Partner Success Director, Ataccama
David Kolinek – VP of Data Governance, Ataccama
Lenka Studnicna – Platform Product Manager, Ataccama
Rahim Hajee – Chief Technology Strategy Officer, Adastra
Diana Babiac – Product Manager RDM and ONE Data, Ataccama
Matthew Taylor – Projects & Solutions Director, Ataccama
Vani Saraswathy – Data Consultant, Ataccama
Afshin Lofti – CEO of North America, Ataccama
May Kwok – DQ / MDM Consultant, Ataccama
Tom Bolek – VP Presales, Ataccama
Ales Kotek – Projects and Solution Director, Ataccama
Zuzana Vytiskova – DQ/MDM Consultant, Ataccama
Sukesh Reddy – Solution Architect and Managing Consultant, Ataccama
Daniel Marinovic – Director of Professional Services, Ataccama
Rafeeq Durowoju – Principle Consultant, Ataccama
Anna Spakova – Solution Consultant, Ataccama
Abir Newaz – Senior Solutions Consultant, Ataccama
Lukas Kolek – VP of Data Quality, Ataccama
Jakub Duha – DQ/MDM Consultant, Ataccama
Jonas Sevcik – Engineering Manager of ONE Portal, Ataccama.