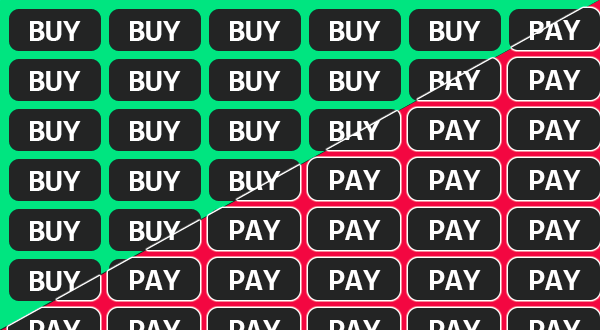 In the era of COVID-19 pandemic, online shopping has become even more popular. Electronic payments are one of the most important, if not the most important segment of modern finance. Many companies have been quick to recognize this trend by introducing the BNPL (buy now pay later) service. This service allows you to postpone the payment for purchases for up to 30 days. However, most importantly it is a free service with no hidden additional costs as long as the buyer pays for the product on time. In case the consumer does not pay, he will have to pay commissions or be charged interest. In practice it means that the buyer pays for the product after receiving it, gets acquainted with it, checks whether it suits him and whether it works properly. With the rapid progress of digitalization, consumers' approach to shopping and paying for the latter is changing. Such a facility is useful especially in the case of fashion shopping, where the customer has the opportunity to try the product before making the final decision. This service enjoys considerable interest in Poland and worldwide, e.g. in the United Kingdom it has already been used by nearly 33 percent of consumers who shop online.
Buy now pay later in Poland – legal regulations and market trends
This service has no separate legal regulations relating to it directly. It is governed by the Act of 12 May 2011 on consumer credit, which is the implementation of the Directive 2008/48/EC of the European Parliament and the Council. In Poland, payments under this system are offered on the principles of consumer credit. In particular, the rules on information obligations, maximum interest amounts and non-interest costs apply. Some operators base this service on the provisions of the Civil Code on mandate and power of attorney. The fact that no charges are levied for interest or other costs related to the provision of this service is supposed to exclude the application of the Polish Consumer Credit Act. The products available under the BNPL system provide for various payment terms, however most often they are free of charge during the first deferment period. According to research in Poland, 96 percent of people using the Internet have made purchases online, moreover buy now pay later were available in 30 percent of the largest online stores in Poland (24 percent in 2019). Last year, the share of BNPL payments in the online payment market in Poland reached as much as 5 per cent. As for BNPL payments themselves, 29 per cent of respondents said they would use this option for the last transaction if it was available. Three in four Poles know what BNPL payments are, but only 25 percent have already used it at least once. Analyses show that in 2020 about 400,000 Polish consumers used the buy now, pay later method, and this market has a potential of up to 3.5 million customers. This proves the huge market potential of this system. The offer of deferred payments on the Polish market is offered by such companies as: Twisto, Allegro Pay, Klarna, PayPo, P24Now, Smartney Pay or TryPay. They differ in the model of operation and rules connected with BNPL payments. For example, a Czech company Twisto cooperating with ING bank made 13 million transactions in the BNPL system in 2020, generating revenue of PLN 3.8 million. It serves more than 30,000 stores, offering a 30- or 45- day deferred payment period, and charges interest of 11.2 percent per year if the deadline is exceeded. On the other hand, Smartney Pay, with a revenue of 47 million in 2020 while serving 792 stores, defers payment for 30 days and after that period, in case of non-payment, it charges an amount of £1.37 per month for every £100. However, it should be noted that the analysis of the financial situation of BNPL companies is not easy. The vast majority of them have been operating for a short period of time, which results in frequent lack of complete and comprehensive financial data.
Buy now pay later services in the world
Currently, it is estimated that globally 2 percent of e-commerce transactions are carried out under the BNPL formula, in Europe this percentage reaches 7 percent, and in Australia, for example, 10 percent. Square recently bought Australian company BNPL for $29 million. Square plans to integrate Afterpay's service with its seller ecosystem and payment platform Cash App, which is used by more than 70 million U.S. consumers and small businesses. Meanwhile, Afterpay has more than 16 million consumers and is used by more than 100,000 businesses. Amazon has teamed up with Affirm to offer its U.S. customers a buy now, pay later option at the checkout. The instalment payment option is already being tested with some customers and will be rolled out more broadly over the next few months. Back in February, PayPal revealed that in the fourth quarter of 2020, about 2.8 million PayPal customers worldwide used its BNPL service for transactions worth more than $750 million, with 250,000 unique merchants. However, there are significant issues facing the BNPL industry. One-third of US consumers who have used BNPL have fallen behind on a payment; within that group, 72% believe their credit score had suffered as a result. A British watchdog group found that one in 10 BNPL users have been chased by debt collectors. BNPL payments are often used merely as a substitute for credit cards and loans, increasing overall debt. The vast majority of countries have no separate legislation on BNPL payments, and companies operating in this sector rely on consumer credit regulations (as in Poland).
Sources:
https://fintek.pl/co-to-sa-platnosci-odroczone-i-kto-je-oferuje-w-polsce/
https://businessinsider.com.pl/firmy/kup-teraz-zaplac-pozniej-klarna-weszla-do-polski/ztgb6sv
https://www.rp.pl/ekonomia/art18738201-rosnie-potezny-nowy-rynek-w-polskim-e-handlu
https://www.cashless.pl/report/raport-platnosci-odroczone.pdf
https://fintek.pl/ruszyla-kampania-wymierzona-w-bnpl/
https://pieniadze.rp.pl/karty-platnicze/art18885721-platnosc-odroczona-oferta-2021
https://fintechlatest.substack.com/p/does-the-buy-now-pay-later-wildfire?token=eyJ1c2VyX2lkIjoyMDkwNDgyOCwicG9zdF9pZCI6NDEwODc3MzksIl8iOiI3TlpH NSIsImlhdCI6MTYzMzcwMjc5OCwiZXhwIjoxNjMzNzA2Mzk4LCJpc3MiOiJwdWItMTExNTIxIiwi c3ViIjoicG9zdC1yZWFjdGlvbiJ9.ePyOiTG5G0sbdn-82Wyp7mNmDq2Rz7p_4gpYQmIokK8