Publication date: February 23, 2023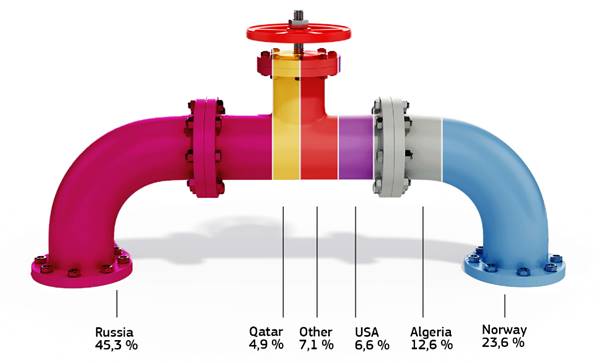 On 12th of May of 2022, this new plan drawn up by the European Commission comes in the context of the ongoing war in Ukraine. This conflict has allowed to see the dangerous ties of dependence that had been forged in recent years towards Russian energy resources. To this there must be added the fundamental importance of the climate crisis we are experiencing due to our massive use of fossil fuels. Hence, the European organization has elaborated a short-term and medium-term action plan to put an end to our consumption of fossil resources on the basis of previous energy projects.
REPowerEU builds on the full implementation of the Fit for 55 proposals tabled last year without modifying the ambition of achieving at least -55 % net GHG emissions by 2030 and climate neutrality by 2050 in line with the European Green Deal. However, the fast phasing out of fossil fuel imports from Russia will affect the transition trajectory, or how climate target is reached, compared to that under previous assumptions.
The REPowerEU plan cannot work without a fast implementation of all Fit for 55 proposals and higher targets for renewables and energy efficiency. In the new reality, the EU's gas consumption will reduce at a faster pace, limiting the role of gas as a transitional fuel. However, shifting away from Russian fossil fuels will also require targeted investments for security of supply in gas infrastructure and very limited changes to oil infrastructure alongside large-scale investments in the electricity grid and an EU-wide hydrogen backbone. In parallel, some of the existing coal capacities might also be used longer than initially expected, with a role for nuclear power and domestic gas resources too.
The REPowerEU is organized in these areas of action:
Energy Savings
Diversifying Energy Imports
Substituting fossil fuels and accelerating Europe's clean energy transition
Smart Investment
Reinforcing preparedness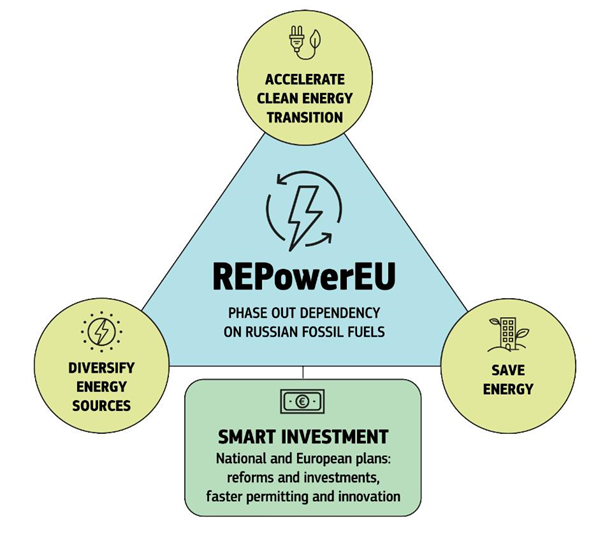 Energy Savings
Savings are the quickest and cheapest way to address the current energy crisis. Reducing energy consumption through higher efficiency is a vital component of the clean energy transition. The approaches planned by the Commission have two ways: strengthening structural change with mid- to long-term energy efficiency measures and achieving immediate energy savings through behavioural changes.
Until the implementation through legislative measures of the plan, the Commission suggests to change our behaviour. For that reason, in cooperation with the International Energy Agency, the nine-point plan "Playing my part" for reducing energy use in the EU has been launched. Basically, a short guide of advice to reduce the energy consumption.
Diversifying energy imports
The Commission and Member States have set up an EU Energy Platform for the voluntary common purchase of gas, LNG and Hydrogen. The EU Energy Platform will fulfil three functions supporting common purchase of gas:
Demand aggregation and structuring: the demand pool will identify and aggregate contestable volumes based on expiring long-term contracts as well as flexible volumes under existing long-term gas contracts which could lead to roughly 30-70 bcm of demand in the short term. Consider legislative measures to require diversification of supply should be a good idea.
Optimised and transparent use of import, storage and transmission gas infrastructure maximising security of supply and replenishment of storage. For this matter there is going to be created a mechanism and IT tool to improve transparency.
Additionally, there is going to be considered development of a voluntary operational joint purchasing mechanism responsible for negotiation and contracting on behalf of participating Member Sates of the aggregated gas demand and competitive release to the market.
Industry expertise on the global energy market will be important for the success of the Platform. An Advisory Group will inform the Platform on issues such as LNG trade, financing, hedging and other elements along the value chain. The exchange of information will have to be compliant with antitrust rules.
In line with the conclusions of the European Council the EU Energy Platform is open for the Energy Community Contracting Parties (Western Balkans, Ukraine, Moldova, Georgia).
Diversification options are also important for Member States currently dependent on Russia for nuclear fuel for their reactors serving either power generation or non-power uses. This requires working within the EU and with international partners to secure alternative sources of uranium and boosting the conversion, enrichment and fuel fabrication capacities available in Europe or in EU's global partners. In addition to diversifying external suppliers, continuing domestic natural gas production for Member States where this is possible can contribute to strengthen security of supply.
Substituting fossil fuels and accelerating Europe's clean energy transition
If stopping the consumption of Russian resources is the primary objective, this is the second key objective to achieve European autonomy and a climate-neutral Europe. This is because a major speed-up and scale up in renewable energy, especially in solar and wind energy, in power generation, industry, buildings and transport will accelerate the transition. Also renewable energy is cheaper in long-term. Therefore, for boosting renewable energy the commission is proposing among other measures:
To increase the target in Renewable Energy Directive to 45% by 2030. This would bring the total renewable energy generation capacity to 1236 GW by 2030;
To set the target of over 320 GW of solar photovoltaic newly installed by 2025 and almost 600 GW by 2030. Furthermore, within the new EU solar strategy presented by the Commission, there is introduced the European Solar Rooftop Initiative anchored. Basically, some types of buildings are going to be legally required to have photovoltaic installations in their rooftops;
To further strengthen the EU wind sector's global competitiveness, and achieve the REPowerEU ambition with fast wind energy deployment, supply chains need to be strengthened and permit processes drastically accelerated;
To double the current deployment rate of individual heat pumps. This can be accelerated by:

Developing and modernising district heating systems which can replace fossil fuels in individual heating;

Clean communal heating, especially in densely populated areas and cities;

Exploiting industrial heat whenever available;

To strengthen the supply for solar, wind and heat pump technology by enhancing the regulatory framework, ensuring life-cycle sustainability;
To promote the development of electricity store capacities by considering storage assets as being in the overriding public interest and facilitating their deployment;
To align the sub-targets for renewable fuels of non-biological origin under the Renewable Energy Directive for industry and transport with the REPowerEU ambition (75% for industry and 5% for transport) and to rapidly conclude the revision of the Hydrogen and Gas Market package;
To double the number of Hydrogen Valleys;
To call on industry to accelerate the work on missing hydrogen standards, in particular for hydrogen production, infrastructure and end-use appliances;
To boost sustainable biomethane production to 35 bcm by 2030 by establishing an industrial biogas and bio-methane partnership to stimulate the renewable gases value chain;·taking additional measures to encourage biogas producers to create energy communities; providing incentives for biogas upgrading into bio-methane;·promoting the adaptation and adjustment of existing and the deployment of new infrastructure for the transport of more bio-methane through the EU gas grid;·addressing gaps in research, development and innovation;·facilitating access to finance, and mobilise EU funding under CEF, Cohesion Policy, RRF and the Common Agricultural Policy.
Smart investment
The Commission's analysis indicates that REPowerEU entails additional investment of 210 billion euro between now and 2027, on top of which it is needed to realise the objectives of the Fit for 55 proposals. According to them such investment will pay off. Implementation of the Fit for 55 framework and the REPowerEU plan will save the EU EUR 80 billion in gas import expenditures, EUR 12 bn in oil import expenditures and EUR 1.7 bn in coal import expenditures per year by 2030. However, during the process, Russian energy imports can lead to higher and more volatile energy prices.
The REPowerEU plan brings a significant change to the energy system in terms of quantities and directions of energy flows. The Trans-European energy networks (TEN-E) framework helps establishing a more resilient European gas infrastructure based that enables more diversified supplies. For example, the very recent Gas Interconnection Poland-Lithuanian (GIPL), an important key in the Energy sector of the Baltic region. The set of proposals and ongoing infrastructure: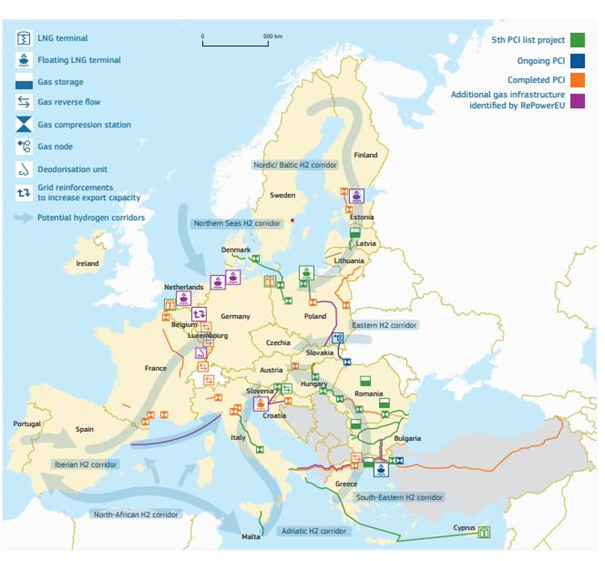 European map of infrastructure for gas (include hydrogen corridors)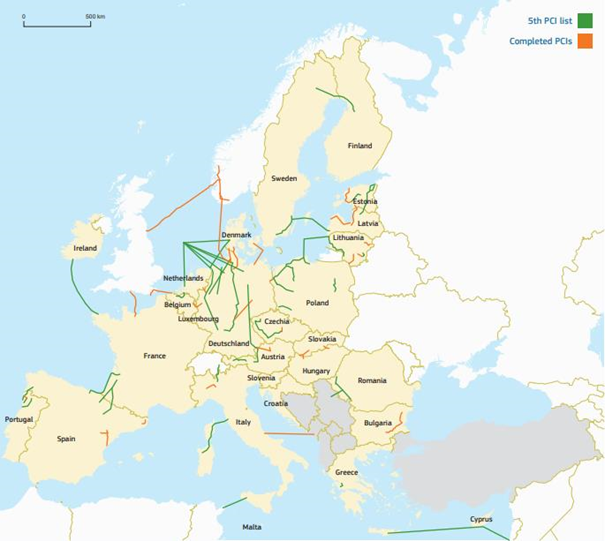 European Infrastructure map for electricity
Besides the common European infrastructure and investment plans, that require a strong coordination, the Commission suggests the implementation of measures and plans within Member States. For this reason they argue that the Recovery and Resilience Plans (RRPs) have proven highly suitable to implement urgent priorities in a joint EU framework, based on needs by Member States and with a strong results orientation. The Commission invites Member States to add to their existing RRPs a dedicated chapter with new actions to deliver on the REPowerEU objectives of diversifying energy supplies and reducing dependence on fossil fuels. Technical support to Member States is available under the Technical Support Instrument for that purpose. Cross-border investments are essential to strengthen interconnection and ensure the security of energy of supply for the Single Market.
To mobilise finance for covering the short term REPowerEU investment needs, the Commission proposes a targeted and swift amendment of the Recovery and Facility Regulation. The amendment foresees allocating additional funding from the auctioning of allowances of the Emissions Trading System ('ETS'), in a limited amount. It also proposes that Member States benefit from a higher flexibility to transfer resources allocated to them both under the Common Provisions Regulation (EU) 2021/1060) and the Regulation on CAP strategic plans (EU) 2021/2115). These grants will complement the remaining EUR 225 billion of loans under the RRF, resulting in a total amount close to EUR 300 billion. It is proposed that if part of the remaining EUR 225 billion of loans under the RRF is not requested by the member States currently entitled to them within 30 days after the entry into force of the amended RRF Regulation, these resources will be made available to other MS. Furthermore, Member States are going to have the capacity of transferring a percentage of funds from other European policies to the REPowerEU if it is necessary.
The InvestEU Programme will mobilize private finance to support a wide range of investments that contribute to achieving the REPowerEU's policy goals, by sharing risks with implementing partners. The Commission will work closely and in a Team Europe approach with the EIB Group, other implementing partners of the InvestEU Programme and EU Member States to accelerate lending, blending and advisory products for renewables, energy efficiency and electricity networks.
Reinforcing Preparedness
With the current situation with the Russian Federation shortage of gas are very likely to occur. For that reason, Commission calls on Member States to:
Pre-emptively implement the EU Save Energy Communication;
Update their contingency plans taking into account the recommendations contained in the Commission's preparedness review;
Ask transmission system operators to accelerate the technical measures which can increase the reverse flow capacities from west to east;
Conclude the outstanding bilateral solidarity arrangements between neighbouring countries.
Basically, all these measures and those that have not been mentioned can be divided into short-term and medium-term actions. By way of summary, in case the set of measures has not been very clear, the following table is presented:
| | |
| --- | --- |
| Short-term measures | Medium term measures |
| Common purchases of gas, LNG and hydrogen via the EU Energy Platform | New national REPowerEU Plans under the modified Recovery and Resilience Fund |
| New energy partnerships with reliable suppliers | Boosting industrial decarbonisation with €3 billion of frontloaded projects |
| Rapid roll out of solar and wind projects | New legislation and recommendations for faster permitting of renewables |
| Increase the production of biomethane | Investments in an integrated and adapted gas and electricity infrastructure network |
| An EU Save Energy Communication with recommendations to save energy | Increased ambition on energy savings by raising the EU-wide target on efficiency for 2030 from 9% to 13% |
| Fill gas storage for Winter | Increase the European renewables target for 2030 from 40% to 45% |
| EU-coordination demand reduction plans | A modern regulatory framework for hydrogen |
Results and current performance
In a few days it will have been nine months since the plan was presented, therefore, enough time has already passed for us to have seen some of the plan's measures materialize. The imports from Russia's Energy Sector had dropped from 40% to 15% in this short period of time. Actions had been taken to search and secure new suppliers. For example, the Commission established the EU Energy Platform Task Force; the EU, Egypt and Israel signed a trilateral Memorandum of Understanding for the export of natural gas to Europe, the natural gas from Israel, Egypt and other sources in the Eastern Mediterranean region will be shipped to Europe via Egypt's LNG export infrastructure; other similar Memorandum was signed with Azerbaijan; the EU and Norway had agreed to increase short- and long-term gas supplies.
Moreover, the Commission has proposed a new temporary emergency regulation to accelerate the deployment of renewable energy sources in the form of a Council Regulation based on Article 122 of the Treaty on the functioning of the European Union. With the time application of a year, the regulation comprehend emergency measures to accelerate the clean energy transition targeting specific technologies with great potential. Essentially, under this proposal, renewable energy plans would be presumed to be of overriding public interest. This means shorter periods of administrative procedures and a bit more relaxed EU environmental legislation. Solar energy plans are going to have a maximum of one month for permitting the installation. In addition, the requirements for the application of renewable energy plans are relaxed, the administrative procedure is limited to a maximum of 6 months and a simple procedure is introduced when the extension does not exceed 15%; for small heat pumps, the administrative process has also been reduced to a maximum of three months and simplified.
Furthermore, new gas storage rules have been adopted and a gas demand reduction plan has been proposed by the Commission. The EU, the United States and 11 other countries launch the Global Methane Pledge Energy Pathway to catalyse methane emissions reductions in the oil and gas sector, advancing both climate progress and energy security.
On 14th December 2022, The European Parliament and the Council reached a political agreement on financing REPowerEU and enabling Member States to introduce REPowerEU chapters in their recovery and resilience plans. This means that the fund proposed by the Commission will be used to accelerate the energy transition. It also means the possibility of transferring funds of other policies to this means.
In conclusion
In the last nine months, some of the measures included in this emergency plan have been implemented. In general, they have been quite successful. However, there is still a long way to go. Many of the proposed measures are the adoption of proposals from previous years that have not yet been approved by the Parliament and the Council. Imports of Russian energy resources have been greatly reduced, but much of the money proposed for investment in renewable energy production and transport infrastructure projects has not yet reached its destination.
Of great importance is the proposal of new temporary emergency regulation to accelerate the deployment of renewable energy sources in the form of a Council Regulation. However, they have not yet been approved and have not yet entered into force. This regulation would greatly facilitate business in the renewable energy sector, not only within the borders of one country but also in the whole European framework. The limitation of the deadlines for the response to the installation permits, the small relaxation of the environmental regulations and even the possibility of positive administrative silence would make the procedures much simpler and would make it easier for investors to be encouraged and motivated to invest in this sector.